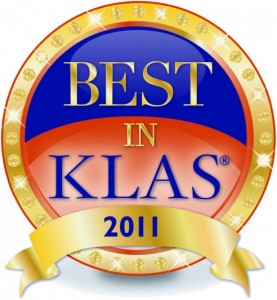 KLAS, a leading healthcare technology research firm, has named PeopleSoft as the best Financials/ERP software in its "2011 Best in KLAS Awards: Software & Services" report. "Best in KLAS rankings mark those vendors who best keep their promises in their market segments for offering a combination of superior products, strong service, and high customer value. We hope these ratings continue to help providers find transparency from their vendors in making purchasing decisions" says Adam Gale, KLAS president.
This annual report that ranks best-performing healthcare IT vendors in more than 100 market segments is brought out by interviewing as many as 18,000 healthcare providers. Each of these providers is handed out a questionnaire that asks them to rate their vendors on areas like Product Quality, Sales & Contracting, Implementation & Training, Functionality & Upgrades, Service & Support and General through 25 questions. The overall performance rating is then calculated based on these ratings.
KLAS is a healthcare technology research firm that specializes in monitoring and reporting the performance of software, services, medical equipment and infrastructure vendors. Working with thousands of healthcare executives from hospitals and clinics in North America, KLAS collects performance feedback to deliver timely reports, trends and statistics that provide a solid overview of vendor performance in the industry.