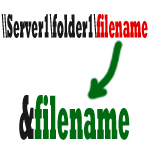 Last week, we were working on an App Engine that called an encryption script on the Windows server using Exec command. This script required us to send the filename to be encrypted. But what we had in our State Record was a string that contained the complete path of the file which had the filename towards the end.
We had to capture the filename into a string and then pass it on to the script for encryption. The simplest way that came to my mind was to use the split function to split the filepath+filename string into an array and then take the last element which would be the actual filename. We later wrote a function that does this for later use.
Function GK_FILENAMEGRAB(&GK_FILEPATH) Returns string;
   /* Function to separate the filename from filepath */
   Local Array of String &GK_fpath;
   &GK_fpath = Split(&GK_FILEPATH, "\");
   Return &GK_fpath [&GK_fpath.Len];
End-Function;
 
/* Usage */
&FILENAME = GK_FILENAMEGRAB(&FILEPATH);
Consider that the &FILEPATH string contains the following value.
\\PRD-SERVER1\INTERFACES\AP\OUTPUT\RAW\FILE1.DAT
The split function would split the filepath into its individual components.
So the statement &GK_fpath = Split(&GK_FILEPATH, "\"); will have the following values in the array.
So return &GK_fpath [&GK_fpath.Len]; will return &GK_fpath [8] ie; FILE1.DAT
Do you know a better way to do this?