Extracting the ZIP file
Unzip the file named CS-920-UPD-017-OVA_1of13.zip into the same folder that contains all the zip files.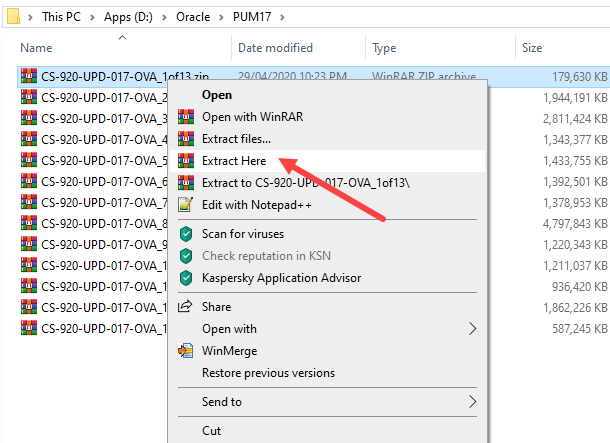 After this, you will have a setup folder, a readme file and an xls file listing all the updates included in this image.
Within the setup folder, you will see psft-dpk-setup.bat – this is the batch file that's going to unzip all the zip files you've downloaded.
To perform the extraction, launch Windows PowerShell as Administrator and navigate to the setup folder.
Once in the setup folder, run the batch file by executing ./psft-dpk-setup

After extraction, this command will delete the zip file you've downloaded. So if you need to keep these files, please back these up to a safe location.
At this point, you can see that all the downloaded zip files have been extracted and deleted.
You will also see a file named VBOX_8.58.03_SHELL.ova – this is the VirtualBox shell that we will import into the VirtualBox.
The script will also figure that you've already installed Oracle VirtualBox and offer to import the OVA file into the VirtualBox Manager.
As we need to do a couple of configurations on the VirtualBox Manager, do not take up on the offer – enter n.
Importing the Appliance
Launch your Oracle VM VirtualBox (see prerequisites)
Go to File > Import Appliance. Browse and select the VBOX_8.58.03_SHELL.ova file we got in the previous step. Click Open.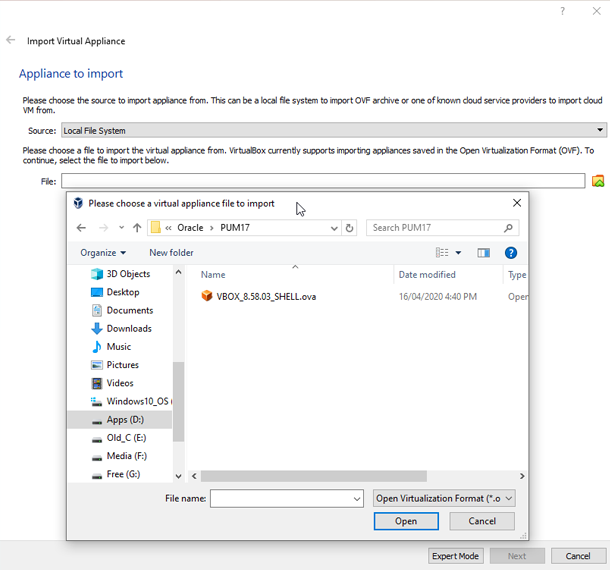 The Import Virtual Appliance settings dialogue appears. Change the MAC Address Policy to "Generate new MAC Address for all network adapters".
You may also change the folder in which the Virtual Disk images would be created to a drive other than C.
Once you are done with the changes, click import to start importing the OVA. This might take 3-4 minutes.
Once the import is complete, you can see the new shell within your Virtual Box Manager.
On the appliance, go to Shared folders and use the Add folder button to add the folder where your zip files reside.
In the next page, you will see how this start the appliance and complete the installation.
Click on page 3.