If you want to have your own local PeopleSoft installation, look no further. This post shows you exactly what I did to install PeopleSoft 9.2 / PeopleTools 8.58 on my Windows 10 laptop using Oracle VM Virtualbox.
This post will cover the following topics:
Prerequisites
Downloading the image
Extracting the ZIP files and Combining
Importing the OVM
Accessing the PIA
Installing SQL Developer and Application designer is covered in subsequent posts.
A little bit of background first. I'd to re-image my laptop several weeks ago and have not had a local PS installation since then. So I decided to get Campus Solutions 9.2 Image 17 up and running last weekend. The laptop I'm using has the following configuration.
Processor: i7 4700MQ
RAM: 16GB
OS: Windows 10
SSD: 500GB
HDD: 1TB
Since Oracle started providing the VM images, installing PeopleSoft has become a straightforward affair. If you do not account for the downloading time, you can complete the full installation in little more than an hour.
Prerequisites
Before you get started with the installation, make sure to have a look at the prerequisites.
Virtualisation support
To start off with the process, let's first enable virtualisation support.
This is done via the setup utility (press F2 while booting on Lenovo; might be different for other manufacturers) and is needed if you want to run a virtual machine on your laptop.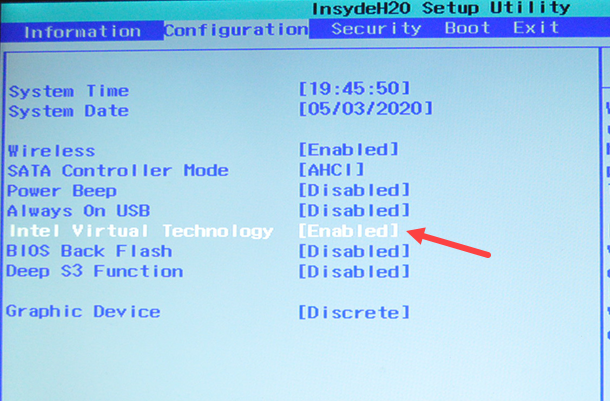 Oracle VM VirtualBox
This is the virtualisation software we would be using. It's freely available for download from Oracle here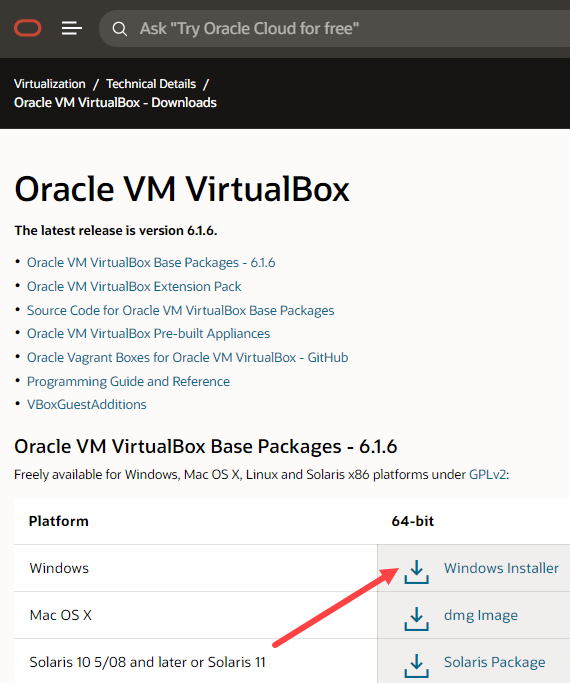 My Oracle Support Account
To access the PUM home page, you would be required to log in to MOS.
Hardware Support
You would need around 150 GB of HDD space to download, extract the zips and initialise the VM. After this is done, you may remove some files (more on this later) to recover space. You would also need a 64-bit processor and a 64 bit OS.
Downloading the image
Navigate to PUM home page by clicking this
link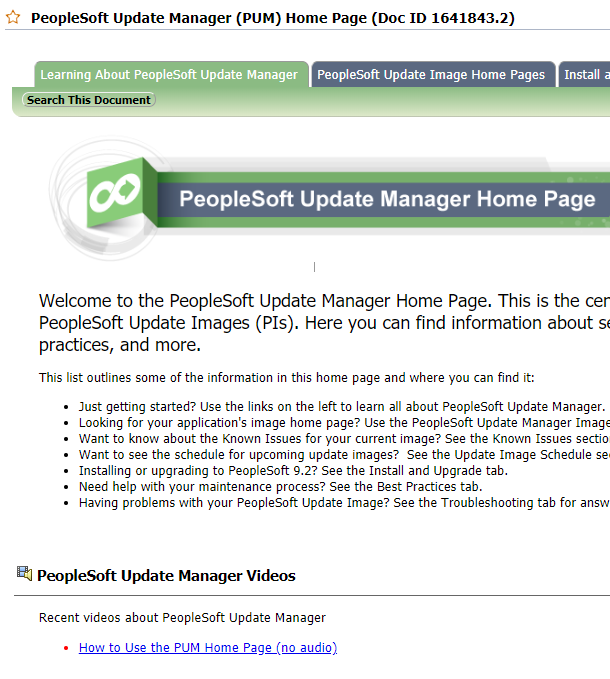 The second tab you see is PeopleSoft Update Image Home Pages. In the drop-down menu that appears when you hover your mouse on the second tab, select the application you are after. I'm selecting Campus Solutions Update Image Home Page.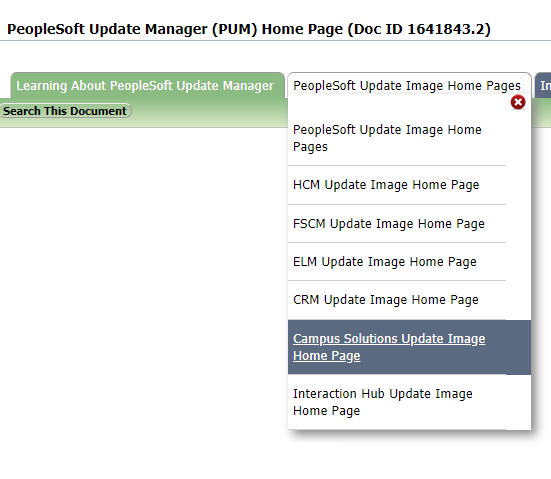 On the Campus Solutions update image home page, on scrolling down, select the VirtualBox link to see links to update images. Click on the PeopleSoft Campus Solutions Update Image link. This one was posted on 28th April 2020. When you check out this page, you might have a newer one.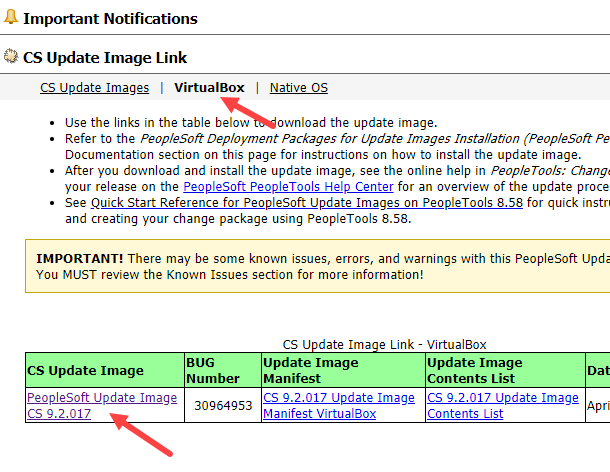 This would open a new window listing the patch 30964953. This might be different for you. Click on the download button towards the right of the page.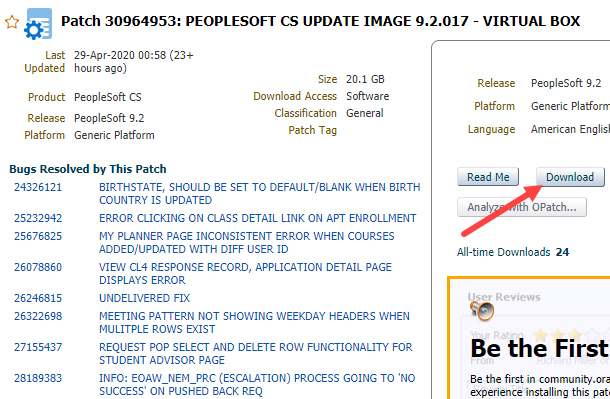 A window pops up and prompts you to accept the license agreement. On the next screen, the list of files that need to be downloaded is shown.
After trying out several tools, I've settled with Internet Download Manager as my preferred download manager. I was able to download all the files onto my laptop using IDM in a couple of hours.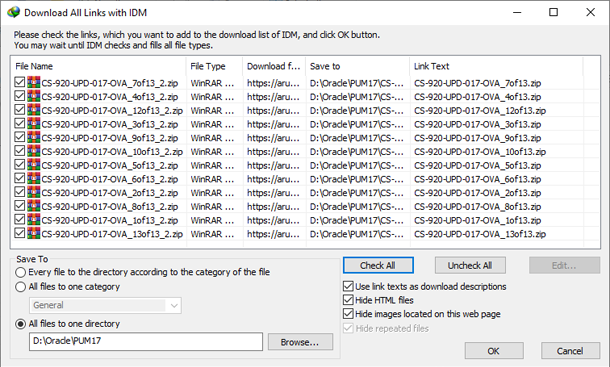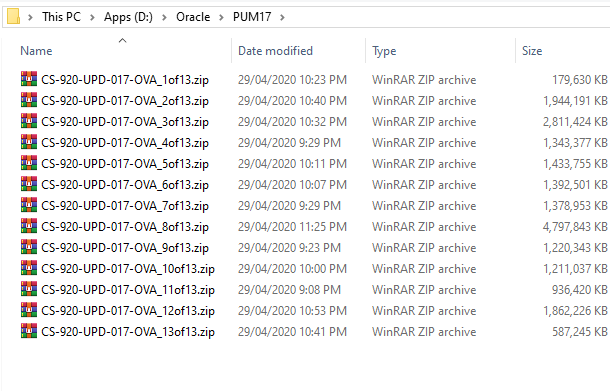 In the next page, you will see how these zip files can be extracted to get the OVA file and how to import it into VirtualBox Manager.
Click on page 2.